Sponsors and Business Links
If you would like to become a WCC sponsor with your own page on our website and promote your products or services to the ever-growing Internet community based both in Woodford and in surrounding localities, please contact us on info@woodfordcommunity.co.uk.
1. Jackson Barrett & Gass

Jackson Barrett & Gass is a multi-award winning specialist private client law firm based in Wilmslow, who deal with residential and commercial Conveyancing, Probate, Wills and Lasting Powers of Attorney. Find more about the company who were the first firm in Cheshire to win a Law Society Excellence Award here.
2. Avro Heritage Museum

Situated on the Woodford Aerodrome the museum preserves and sustains the rich heritage of Avro and its prominent place in world aviation. In particular the Woodford site which was first occupied in 1924, from which iconic aircraft emerged such as the Lancaster, Shackleton, Vulcan and Nimrod.
The museum takes visitors on a journey from 1907 to 2011 with four cockpits to experience and much more.
Open Friday, Saturday and Sunday and Bank Holidays (10am-4.00pm November to April) with pre-booked group visits on Tuesdays and Thursdays.
3.GreenThumb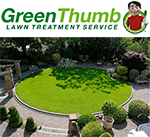 GreenThumb are the UK's number one lawn care specialist, and having been established for over thirty years, we are uniquely and expertly positioned to care for all aspects of your lawn.
We highly recommend a tailored lawn treatment programme, one that is just right for your lawn and its issues. Following an initial consultation, our lawn operatives will recommend which level of treatment your lawn requires, and then leave the decision up to you. More details here.