W.C.C. Sponsor - Jackson Barrett & Gass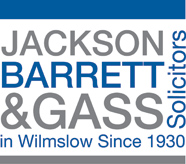 Jackson Barrett & Gass is a specialist private client law firm who deal with residential and commercial Conveyancing, Probate, Wills and Lasting Powers of Attorney.
With roots in Stockport dating back to 1914, Jackson Barrett and Gass have been in Wilmslow since 1930.
Based on Grove Street until 2003, the firm now occupy offices based on the Wilmslow and Woodford border, next to the historic Smithy on Adlington Road.
Jackson Barrett & Gass want to demonstrate willingness to use new technology (E-Conveyancing / email) for those who wish to use it, whilst offering traditional alternatives (i.e. paper / telephone based communications and face to face meetings) for those who do not.
The firm's emphasis is client service which has resulted in numerous Law Society awards and accreditations, including being the first firm in Cheshire to win a Law Society Excellence Award.

The Quality Mark for
Wills & Inheritance
The Quality Mark for
Solicitors
The Quality Mark for
Conveyancing

Jackson Barrett & Gass
Smithy Annexe
112 Adlington Road
Wilmslow
Cheshire
SK9 2LN

Telephone 01625 523988
Fax 01625 525851
Email mail@jbgass.com
Website www.jbgass.com
Twitter: @JBandGass
*Adobe Reader is required to view this document. It can be downloaded free from the Adobe website here.