W.C.C. Sponsor - Southfield House Residential Care Home
News:
In July 2015 Southfield House celebrated its 30th Anniversary - click here.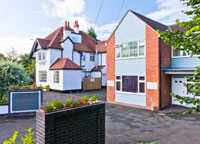 Southfield House is a privately-owned residential care home providing relaxed, comfortable surroundings with the reassurance of professional 24 hour care.
It provides a haven for some 23 residents and employs 25 qualified carers and catering professionals.
It sits amongst a number of large detached residential properties, in an acre of grounds adjacent to Woodford Park Garden Centre and backing on to open fields.
The home has been extended to incorporate 'Norwood', a dedicated building with its own front entrance that provides high specification en-suite accommodation specifically designed for Assisted Living.
Click here for full details of the recent development (PDF).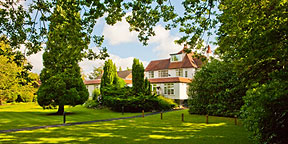 Southfield House has all single rooms, which allow our residents to lead as individual and as private a life as they choose. In addition, there are communal areas for reading, meeting and chatting, viewing television and for dining, which individuals may use as frequently or as infrequently as they desire.
All food is prepared in house on a daily basis from fresh ingredients and our team of professionally-trained and experienced staff is dedicated to ensuring that the health, personal and social care needs of each individual resident are met each day.
Contact Details:
Southfield House Residential Care Home
396, Chester Road, Woodford. SK7 1QG
Home - 0161 439 7703
Office: 0161 440 8432
Email: south1@btconnect.com
Website: www.southfieldhouseltd.com
In July 2015 Southfield House celebrated its 30th Anniversary
Southfield House in Woodford is celebrating 30 years as a dedicated residential care home.

The house was originally transformed from a family home and developed to care for the elderly in 1985 by then owners David and Marita Blackwell. The couple converted and extended the original 90 year old property in 1992 into a purpose-built care home to tend to the needs of 15 residents.

In 2000, the home was acquired by current owners Niel and Joanna Lingwood, with experienced nursing professional Joanna becoming managing director. Over the past 15 years they have extended and developed the home further, including the incorporation of their own former family home, Norwood, into a dedicated facility for 'assisted living'.

Commenting on the milestone, Niel Lingwood said: "David and Marita had already established a home with an excellent reputation when we took over from them in 2000 and we're proud to have been able to continue this legacy and develop the home still further over the years. Of course, our prime objective is to provide the highest standards of care for our residents," Niel continued, "and for this we are indebted to our staff, some of whom have been with Southfield House for more than 17 years".
Photo: Southfield House owners Niel and Joanna Lingwood (right) celebrate 30 years of care at the home with previous owners David and Marita Blackwell (left)