---
Greater Manchester Spatial Framework (GMSF)
The formal consultation on the first draft of the GMSF proposals ended in January 2017. Well over 25,000 responses were submitted and these are currently being inputted into the system, so that they will all be accessible on line.
At the GM Combined Authority /AGMA Executive Board meeting held on 31st March 2017, it was stated that in the light of the number of responses received, the time needed to evaluate them would be extended by six weeks and extra staff would be taken on to undertake the work. It was expected that the Plan would change as a result of the responses received and that it would prioritize brown field developments, whilst ensuring that there was the right mix of new homes needed by the population. The next stage would be a revised Plan, called the Publication Plan, which would be issued in September 2017, and there would be a further period of public consultation lasting three months. The Publication Plan would then be subject to approval by each of the ten Councils of Greater Manchester. However, the Authority believed that it was still on track to submit the Spatial Framework to the Secretary of State by June 2018.
Click here for all background information to date.
JOIN US TO FIGHT THE GREEN BELT GRAB!
Save Woodford's Green Belt is an informal group of residents, formed around the members of Woodford Community Council, Woodford Neighbourhood Forum and the Woodford War Memorial Community Centre, dedicated to fighting the declassification of Woodford's Green Belt. It is a partner in Save Greater Manchester Greenbelt, an umbrella association representing over 30 local Save the Greenbelt groups across Greater Manchester. It supports housing on Brownfield sites and seeks to protect all Green Belt for future generations. It is a formally constituted organisation. You can view its Facebook page here.
You can visit "Save Woodford's Green Belt" Facebook page here and post comments to let us know your views on GMSF.
Rally to Save Greater Manchester's Green Belt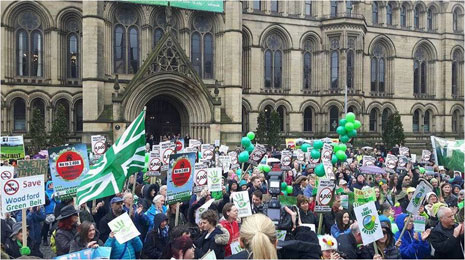 On Saturday, 1st April 2017, Woodford residents joined people from all over Greater Manchester to protest against the GMSF plans to build on vast swathes of Green Belt land across the region. Some 1,500 people gathered in front of Manchester Town Hall to remind the Greater Manchester Combined Authority, prospective mayoral candidates and local councillors of their vigorous opposition to these proposals, which they believe were based on flawed population forecasts and inadequate use of previously developed sites.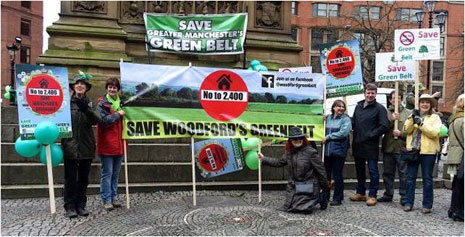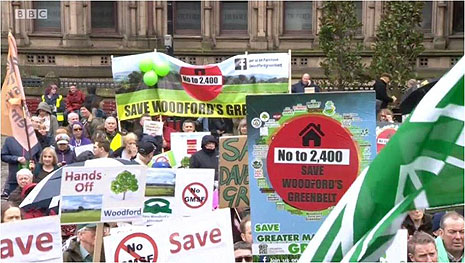 Help to prepare for Round 3 in the campaign to save Woodford's Green Belt
In order that we are prepared when the revised GMSF documents are published sometime later this year, we are particularly looking for residents or close supporters who have expertise in the following:
Press and PR
Journalism and broadcast media
Relevant local government experience
Detailed analysis of technical documents
Fund raising
If this could be you, or indeed if you are just enthusiastic to contribute, then please contact us on info@woodfordcommunity.co.uk to make our team more effective.
---
STATEMENT ON THE GREATER MANCHESTER SPATIAL FRAMEWORK
A joint statement on behalf of the Stockport Labour Group, The Stockport Conservative Group, The Independent Ratepayers Group and the Stockport Residents Group has been issued following the meeting of Stockport Council held on 19th January 2017. Click here for the full statement.
---
Save the Green Belt Walk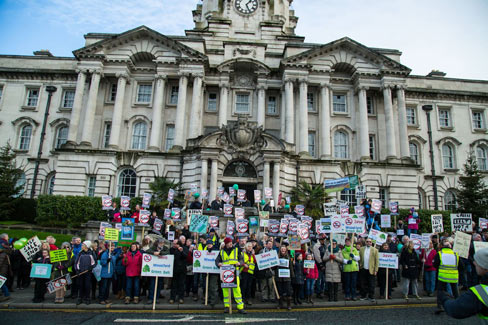 This Protest walk, organised by the Save Stockport's Greenbelt group took place on Saturday, 14th January 2017. Hundreds of Stockport residents joined in, converging on the Town Hall for a spirited rally in defence of our Green Belt.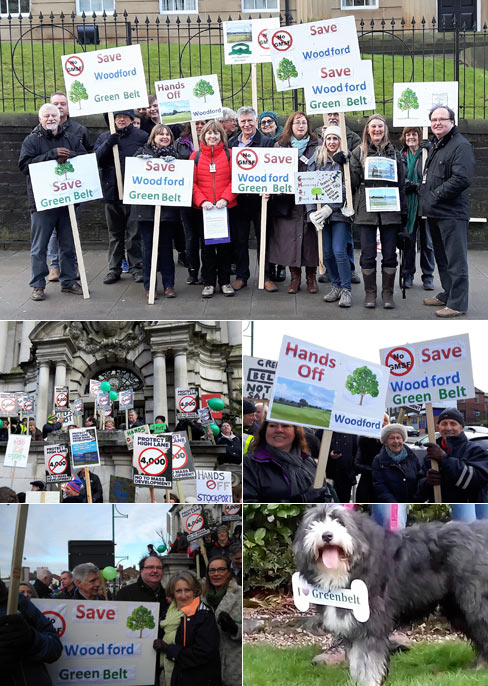 For further information and more photos, click here.
SAVE OUR GREENBELT!

This protest walk was organised by High Lane residents, who have set up a very active Facebook group, which can be accessed here.
Alternatively for those without Facebook, visit the Save Stockport's Greenbelt website here.
There is still time to submit your comments on the GMSF proposals.
The revised deadline is Monday, 16th January 2017
Here is what YOU can do to save our Green Belt:
Submit your comments/objections to the GMSF proposals online, by email or by post.
Comments MUST be received by Monday, 16th January 2017.


Online: http://gmsf-consult.objective.co.uk/portal (you will need to register on the GMSF portal first to obtain a log-in ID, which will be sent to you by email.)
By email: GMSF@agma.gov.uk
By post: Greater Manchester Integrated Support Team, PO Box 532, Town Hall, Manchester, M60 2LA.
For a list of some of the points you might like to use click here.
You can view Woodford Community Council's response to the Consultation here.
Don't leave it to your neighbour, take action – submit your comments NOW.
Please send copies of your comments to MP Mary Robinson and our local councillors:
Proposals rip the green heart out of Woodford
Details emerged on 20th October of plans to take 238 hectares (nearly 600 acres) of Green Belt out of the heart of Woodford to make way for 2,400 new homes. The area to be removed from Green Belt is shown in pink in the map below. It is a large area on either side of Chester Road, bounded by Old Hall Lane, the Aerodrome and Bridle Road in the south and by Church Lane, Moor Lane, Jenny Lane and Woodford Road in the north.
Greater Manchester Spatial Framework (GMSF) – Woodford Opportunity Area shown in pink.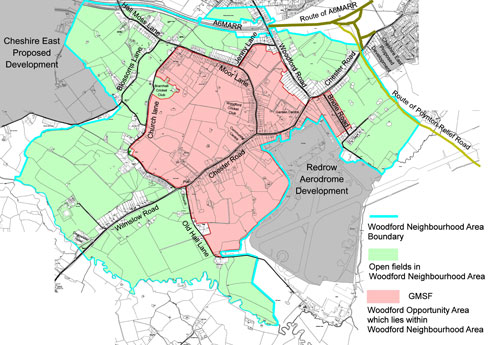 NB Click here to open a full size version of the map.
This is part of a new joint plan for the whole of Greater Manchester (Greater Manchester Spatial Framework), which proposes to take large areas of land out of Green Belt across Greater Manchester to make way for new homes plus commercial development and the infrastructure to support it. The draft plan has been devised by council executives and officers representing each of the 10 boroughs in Greater Manchester. It has been two years in the making and there have been two rounds of informal consultation, but elected councillors and MPs have only recently seen the details of the draft plan. The combined authority leaders reviewed the draft plan on 28th October and voted in favour of proceeding to consultation on the proposal from 31st October to 23rd December.
The proposals will remove large areas of land from Green Belt in neighbouring communities in Greater Manchester as well. The following map illustrates the potential cumulative effect of Cheshire East Council and GMSF proposals within a short radius of Woodford.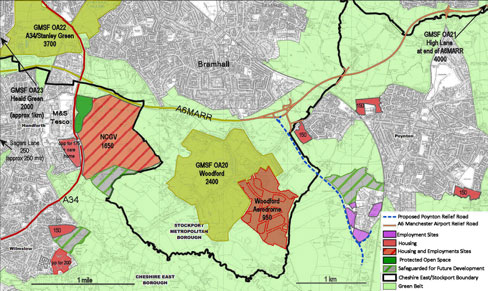 NB Click here to open a full size version of the map.
Further information and the draft GMSF document can be found via the GMSF website, https://www.greatermanchester-ca.gov.uk/info/20081/draft_plan. Click on the link to the documents, then on Draft GMSF October 2016 Consultation in the table and then Read and Comment on Document. Information relating specifically to Woodford can be found in Section 28 Allocations, Subsection 28.8 Other Allocations and finally 28.8.20 Woodford. Paper copies can be viewed at Stockport Town Hall and Bramhall Library.
Most importantly, please respond formally to this consultation between 31st October and 23rd December by one of the following routes:
Online: http://gmsf-consult.objective.co.uk/portal (you will need to register on the GMSF portal first to obtain a log in ID, which may not arrive immediately)
By email: GMSF@agma.gov.uk
By post: Greater Manchester Integrated Support Team, PO Box 532, Town Hall, Manchester,
M60 2LA.
Every comment has to be considered. The deadline is 16th January 2017. Make sure that your views are known.
Cheshire East Local Plan – Revised Local Plan Strategy Consultation
Cheshire East Council's (CEC) Local Plan has major implications for Woodford. It would leave Woodford surrounded by some 5,000 new homes within two miles of Woodford Church. This includes the already planned 920 homes to be built on the ex-BAe Woodford aerodrome site. The developments will result in massive incursions into the Green Belt in Poynton and Handforth.
This map shows the extent of the proposals: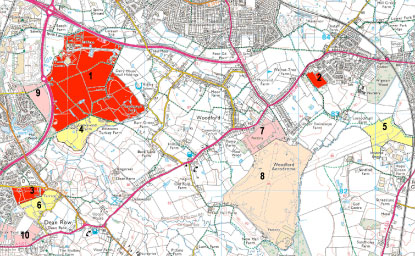 Red sites, 1, 2 and 3 are the sites CEC proposes for development for 1,950 dwellings. Yellow sites 4, 5 and 6 are CEC proposed safeguarded land for future development, which could result in a further 1,350 dwellings (at 30 per hectare). Sites 7, 9 and 10 are approved and building is in progress: 145 homes in Woodford, 175 homes, plus a 108 unit Care Village in Handforth and 204 homes in Wilmslow. Site 8 is owned by Harrow Estates and the subject of an outline planning application for a further 775 homes and a 100 unit Care Home. In addition, there will no doubt be further plans for housing on the MOD site, within site 1 next to Total Fitness, scheduled for closure and redevelopment in 2022.
More details, including a larger scale map may be downloaded here.
The Consultation ended on 19th April 2016 but the CEC revised local plan and comments submitted can still be seen by clicking here and scrolling down to 'Read document and view comments'.
Specific responses submitted by Woodford Neighbourhood Forum, Cheadle MP Mary Robinson, local ward councillors and SMBC can be found on the links below. It is disappointing to see that the response submitted by SMBC differs markedly from the views of Woodford residents and indeed of our elected councillors, particularly with regard to justification for removal of land from Green Belt.
Woodford Neighbourhood Forum's response
Local councillors' response (Brian Bagnall, Mike Hurleston and John McGahan)
---
Award for our Website Producer Mike Gallagher
We are delighted to report that Mike Gallagher, Primary Websites Ltd, our Website Content Producer has just won the 2015 Poynton Achievements in Customer Excellence (PACE) Award in the Business-to-Business category.
For further information about these prestigious awards click here.
Mike is pictured below with Macclesfield MP, David Rutley and Poynton Mayor, Cllr Rebecca Horsman-Johnson, who made the presentation at an Awards Ceremony held at the Poynton in Business Annual Dinner at Davenport Golf Club.