Woodford United
Woodford United was set up in 2012 by Woodford Community Council to harness the expertise, skills and energy of Woodford residents to represent the local community in matters relating to the development of the ex-BAe Woodford Aerodrome site. It has done this very successfully thanks to the hard work and commitment of everyone who joined the Group.
One of its outstanding achievements was the establishment of Woodford Neighbourhood Forum (see below for further details), which – despite the spiteful exclusion of the Aerodrome from the Neighbourhood Area by SMBC – is continuing the fight to achieve the best possible development for Woodford. Following various discussions at recent meetings, WCC decided that in order to avoid duplication/dilution of effort and taking into account the fact that all but two of the current members of WU were now members of the WNF Management Committee, it was now time to disband WU. A Resolution to that effect was therefore approved unanimously at the WCC meeting held on 10th February 2014.
A separate webpage has now been set up for Woodford Neighbourhood Forum and future information will be available there. Click here.
Woodford Neighbourhood Forum approved, but Aerodrome site excluded
Following the application by WCC, Stockport MBC have now granted designation of the Woodford Neighbourhood Forum. They failed to approve the inclusion of the Aerodrome site within the Forum's Neighbourhood Area. This despite the recommendation and support from our Ward councillors, the Bramhall and Cheadle Area Committee, our Local MP Mark Hunter, and neighbouring Poynton and Adlington councils in Cheshire East. We have tried to work with SMBC and sent them the professional advice received from our planning advisers and barrister, even highlighting the recommendations from the Department for Communities and Local Government.
Sadly co-operation does not seem to have worked and all of this appears to have been discounted. In our opinion the decision to exclude the area, which will host the biggest housing development ever seen in Woodford, must be against both the spirit and intention of the Localism Act. If the local community cannot help guide development which will have such a dramatic effect on it then what on earth is the point of the Localism Act? Regrettably we will now have to spend time considering how best to proceed regarding the exclusion. We would much rather be spending our time and energy addressing development issues throughout the whole of Woodford, progressing towards the establishment of a Neighbourhood Plan which would then, democratically, be subject to independent inspection and a referendum.
Woodford has just over 550 houses and is adjacent to, or includes, large areas of land for which proposals are being made for significant development. Handforth to our West are discussing allocation plans produced by Cheshire East Council for in excess of 2000 houses and of course the Aerodrome (BAE) site in Woodford itself has been subject to a Supplementary Planning Document (SPD) which suggests 750-850 houses. The SPD is a guidance document. A Neighbourhood Plan has more legal status than an SPD. The developers are already suggesting they would like to increase this number to around 950 dwellings, and that was before the first planning application had been received by SMBC!
The ex-BAe site will be a long term development taking place perhaps over 10 or more years. A Neighbourhood Plan is not about blocking or preventing it. It is about making sure it is a good fit with the existing community, voted for by that community. It is however, at best, unreasonable, and at worst scandalous, that a community whose population may be expected at least to triple has not as yet been afforded the authority to influence it directly.
We are convinced that the people of Woodford can and should have a positive influence on the development of our village, and will continue vigorously to seek ways to ensure that we do.
Woodford Neighbourhood Forum – Update
It has been a quiet period over the summer whilst the consultation on the formation of the Woodford Neighbourhood Forum was proceeding. The SMBC Officers have now produced their report, which is available here. They are recommending acceptance of the formation of the Woodford Neighbourhood Forum, but are undecided as to whether or not the Neighbourhood Area should include the Woodford Aerodrome Opportunity Site. They are therefore not making a recommendation on this point to the Council members. The applications were discussed at an extraordinary meeting of the Bramhall and Cheadle Hulme South Area Committee on 13th September 2013, and will be at the Environment and Economy Scrutiny Committee meeting on 19th September 2013 and at the Executive Committee meeting on 1st October 2013. The Executive will then formulate a recommendation for the full Council Meeting on the 17th October 2013.
This is obviously a significant decision for the Council, caught between the intention of the developers to maximise their investment and the wishes of local residents, who are in favour of development but in a sympathetic manner to complement and enhance the village of Woodford.
We would respectfully remind the officers and council members of the overwhelming support from the Woodford residents and their elected representatives. In a poll of Woodford residents carried out by WCC during July 2012, over 50% of households responded, 95% of which gave WCC a mandate to represent them on the Airfield development. The establishment of a Woodford Neighbourhood Forum was first proposed at the exhibitions held in September 2012 and was unanimously approved at the WCC AGM held in November 2012.
Mark Hunter, our local MP, and our local councillors, Brian Leck, Brian Bagnall and Paul Bellis, have all strongly supported, in writing, the inclusion of the aerodrome in Neighbourhood Forum Area. As reported, in February 2013 the Rt. Hon. Don Foster MP, Parliamentary Under Secretary of State for Communities and Local Government, came to view the Woodford airfield and village and recommended the formation of a Neighbourhood Forum to include the Woodford Aerodrome Site. We have also had strong support from our neighbouring parishes of Poynton and Adlington.
A failure to approve the full Neighbourhood Area would therefore be a travesty of local democracy.
We await the outcome with interest.
Woodford Neighbourhood Forum - Consultation
With support from the local community, Woodford Community Council, through Woodford United, has been working to address the issues arising from the proposed development of the ex-BAE site and the Stockport Supplementary Planning Document. As explained at the WCC AGM 2012, it was decided that the next stage of the process would be to set up a Neighbourhood Forum under the 2011 Localism Act. An application has therefore been submitted to Stockport MBC to establish Woodford Neighbourhood Forum and Neighbourhood Area. The applications and supporting documentation are available on the Council's website atwww.stockport.gov.uk/neighbourhoodplans and can also be viewed upon request during regular opening hours at:
Stockport Direct Local Centre, Fred Perry House, Edward Street, Stockport, SK1 3XE
Bramhall Library, Bramhall Lane South, Bramhall, SK7 2DU
Budgens, 442 Chester Road, Woodford, Stockport, SK7 1QS.
What does this mean for Woodford?
A Neighbourhood Forum has statutory and recognised powers and duties that bring some of the decision-making and liaison closer to those affected by development proposals and allow their views to carry much more weight.
Working within the National Planning Policy Framework, Local Core Strategy and Allocations Plan, Woodford Neighbourhood Forum may produce a Neighbourhood Plan for the designated Area, which would provide guidance for development within that Area and better reflect the views and concerns of local people, businesses and organisations. It cannot change anything that has already been agreed, but can influence future developments. The Plan would have to be submitted to a local referendum in which all registered voters in the Neighbourhood Plan Area would be entitled to vote and can only be accepted if a majority of those voting agree to it. If accepted, the Plan would become a Policy Document to which SMBC must give due consideration.
Consultation
Stockport MBC is now consulting on the Woodford Applications and anyone wishing to make representations about them must do so in writing by 5.00 pm on Thursday, 18th July 2013 addressed to
Planning Policy (FPH 4)

Services to Place, Stockport Metropolitan Borough

Stopford House, Piccadilly, Stockport, SK1 3XE
or by email to neighbourhood.plans@stockport.gov.uk
Help to give Woodford residents a greater say in what happens within our community – please show your support for the establishment of the Woodford Neighbourhood Forum and the Area that it covers by responding to the Council by this deadline.
SMBC approves the revised Woodford Aerodrome Opportunity Site SPD
The Woodford Aerodrome Opportunity Site Supplementary Planning Document (SPD) was approved by Stockport Council Executive Committee on Monday 14th January 2013. This brought to an end the first phase of the re-development of the site. The next phase is likely to be a planning application by the developers, Harrow Estates/Redrow Homes.  We await this with interest.
Woodford United has worked diligently with the local MP and SMBC Councillors, as well as with representatives of other local councils bordering on the Aerodrome site. It has undertaken a survey of all Woodford residents, analysed and commented on the SPD proposals in depth, received sound legal advice from one of the country's leading barristers in this field, created a very effective exhibition in record time to run parallel to SMBC's exhibition, attended all relevant Council meetings, asking searching questions, and communicated with residents through leaflets, the WCC website and emails. . We would like to thank everyone who supported our campaign, both financially and in kind, without which much of this would not have been possible.
Woodford United would also like to thank all the residents who responded to the draft SPD. SMBC received a massive 735 responses to the consultation. As a result of these contributions a number of positive changes have been made to the original draft SPD, as well as public commitments made during the subsequent adoption process.
The most significant changes made in the SPD
Traffic issues
The original draft relied on traffic data from 2001, but that was when the BAe factory was operating with shift patterns, not when a huge housing development was on the site. SMBC recognised this and the developer is now required to undertake a detailed traffic assessment of local roads and describe how traffic issues will be dealt with, both with and without the completion of the A6 to Manchester Airport Relief Road (SEMMMS).
Area of development and Green Belt
There is now a clearer undertaking that the area of future development will not exceed the area of the current development of 42 hectares (approx 100 acres). Also, the development must have no greater impact on the Green Belt than the current development.
Phasing
Much more emphasis is now given to the importance of phasing. The developers are required to submit a comprehensive phasing strategy as part of the initial planning application. This includes the opening of a new single form entry primary school prior to the occupation of the 300th dwelling.
Public transport
The revised SPD states that new bus services and improved access to rail services will be needed to meet SMBC's strategy for sustainable accessibility in all new developments. In addition, the developer is required to provide long-term support to encourage less use of private cars and greater use of public transport.
Medical services
The previous draft was silent on healthcare issues. The amended SPD now refers to the potential need for increased healthcare provision and requires a review once responsibility has passed to GP-led boards.
Improvements to local community facilities
The Council has acknowledged that measures to facilitate integration of the new residents within the existing community could include enhancement of existing facilities.
House numbers
These have been reduced from 950 to 750-850. We view this as a good start, but only a start. We will continue to use our best endeavours to find ways to work with SMBC and developers to reduce this further.
Employment
We pressed for more area to be dedicated to employment opportunities. The revised SPD now allows for an additional 2 hectares for employment, estimating that this could create an additional 425 jobs. We believe this still isn't enough, given the overall size of the development.
Liaison between local councils
SMBC has confirmed its intention to engage in constructive dialogue with Cheshire East Council to ensure that a "joined-up" approach is taken to development within a 5-mile radius of Woodford since, if all the current development proposals were to go ahead, there would be over 4000 new homes within this area in the next decade. SMBC has agreed to establish joint governance arrangements to oversee the process and as part of the duty to co-operate.
The need for Woodford United's continuing effort
Whilst significant progress has been made in the revision of the SPD, we believe that the indicated number of 750 – 850 dwellings is still too high (the population of Woodford will almost quadruple!), that the 2 hectares allowed for potential employment use is too small, that traffic problems will be a nightmare unless dealt with robustly and that measures to preserve the character of the village have not been adequately addressed.
Therefore Woodford United will need to continue its work by responding to public consultations relating to the planning process, reviewing planning applications in detail and seeking legal advice where appropriate to ensure that such plans comply with procedural policies and legal requirements.
Woodford Community Council and Woodford United are committed to continuing to do their upmost to achieve a development solution for Woodford and its surroundings that is in keeping with the area and the expressed wishes of the residents. We look forward to your continuing support during the next phase of development. If you have any comments on our programme or can contribute additional expertise, please contact us at info@woodfordcommunity.co.uk
Draft SPD - What comes next?
The Public Consultation stage of the draft SPD has now closed. Click here to see a copy of the comments drafted by Woodford United on behalf of Woodford Community Council. Woodford United is now awaiting a first viewing of the revised document.
As a result of the large number of responses from residents and community groups received during the consultation, a new timetable has been drawn up by Stockport Council to approve the final document.
The final SPD will now go through the following approval process:
Stockport Council's Planning and Highways Committee
6.00pm Thursday 6th December at Stockport Town Hall


Stockport Council's Bramhall and Cheadle Hulme Area Committee (extraordinary meeting)
6.30pm on Monday 10th December at Woodford Community Centre, Chester Road, Woodford


Stockport Council's Environment and Economy Scrutiny Committee (extraordinary meeting)
6.00pm on Tuesday 18th December at Stockport Town Hall


Stockport Council's Executive Meeting
6.00pm Monday 7th January 2013 at Stockport Town Hall
All these meetings are open to the public.
Woodford United Exhibitions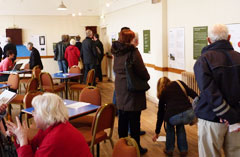 The draft SPD Consultation is underway. Woodford United have held two very successful exhibitions at the Woodford Community Centre, on Friday 7th September and Saturday 29th September, to run in parallel with the SMBC SPD Exhibitions.
Almost four hundred visitors came by to view the panels and discuss the proposals and counter proposals with members of Woodford United.
The exhibition panels can also be viewed here as a PDF. You need the free 'Adobe Reader' software to view this document. It can be downloaded free here.
Find out more about the exhibitions which ran parallel to the official SMBC Exhibition here.
Analysis of Draft SPD
Woodford United members have carried out a thorough analysis of the draft SPD submitted for approval to the appropriate SMBC committees and have asked a wide range of questions at the Stockport Council Meeting on 16th August, the Stockport Executive Meeting on 20th August and the Bramhall & Cheadle Hulme South Area Committee on 30th August. We believe some of these points have already been addressed in the revised SPD, which was released for public comment on Monday 3rd September. You can access it here.
The most obvious change is in the title – "Woodford Garden Village" is gone, it is now "Woodford Aerodrome Opportunity Site". Also Cheshire East has gone too, from the logo and the references to a 'joint SPD'. This is now an SMBC-only document, since the two Councils failed to reach agreement on releasing a joint document for public consultation. There are also some changes to the text.
The important point is that YOU, the residents of Woodford or surrounding areas, who will feel the impact of this development, need to make your voices heard. You should do this by commenting on the draft SPD either by completing the on-line consultation process or by downloading and filling in a form that can then be e-mailed, posted or handed to a local councillor. You can even send a straightforward letter provided that it is clearly referenced to the Consultation.
However, it is crucial that you do seize this opportunity to comment. Do not rely on someone else doing it – you do it too! Remember – the closing date for comments is 15 OCTOBER 2012.
We are all trying to help you. SMBC has arranged an exhibition that will be held at the Woodford Community Centre Large Hall on Friday 7th September 3.00pm to 8.00pm and on Saturday 29th September 10.00am to 3.00pm. At the same time Woodford United will be holding a parallel exhibition in the adjacent Small Hall of the Centre. This will feature the results of its recent survey to find out what Woodford residents thought about the Harrow/Redrow proposals presented in May, as well as drawing attention to the various issues and problems associated with the SPD and the proposed development. We are sure that you will find plenty of 'food for thought' to assist you.
Woodford United Background
Woodford United is the working group set up by Woodford Community Council to harness the expertise, skills and energy of Woodford residents in representing the local community in its resistance to the proposals of SMBC and Harrow Estates/Redrow to build 950 houses on the ex-BAE Woodford Aerodrome site.
Woodford United is growing up quickly: launched by a WCC Newsletter on 12th June, its inaugural meeting was held on 20th June when a number of sub-groups were set up to address specific issues relating to the development proposals. Since then a coordination meeting has been held every two weeks. Woodford United now has some 24 working members with a range of skills, including two ex-Chief Town Planners and four architects. It is also working closely with local MP, Mark Hunter and local ward councillors, Bryan Leck, Brian Bagnall and Paul Bellis.
Three immediate priorities were identified:
Identifying and quantifying the opinions of Woodford residents on the SMBC – Harrow/Redrow proposals for the construction of 950 homes in "Woodford Garden Village".
Researching into, and, if appropriate, challenging, the legality of the impending Supplementary Planning Document (SPD), a draft of which has now been published by SMBC.
Critiquing that draft SPD to enable powerful, clear feedback to SMBC during the 6-week consultation period (which we now know starts on 3 September).
What the residents of Woodford really think about 950 homes
The first initiative has resulted in a questionnaire being delivered to every house in Woodford, followed by visits from Woodford United volunteers to collect them and discuss the developments. This process is still in progress and the results will be analysed carefully. However, it is already apparent that there has been an excellent response, particularly when one considers that it is holiday time. To date some 50% of households have completed the questionnaire with more than 94% of them opposing the proposal for 950 homes.
In addition to the primary concern that 950 houses are far too many, there are related concerns about the impact on traffic, infrastructure (schools, doctors, public transport etc) and the lack of employment opportunities.
Through the questionnaire, Woodford Community Council has been given a clear mandate to represent its residents in future discussions on the developments There has also been an excellent response to our request for donations to a fighting fund and we are very grateful for this support.
Woodford Garden Village Supplementary Planning Document
SMBC's latest draft of the SPD can be downloaded here. This is the version that we understand will go out for consultation for 6 weeks, from 3 September to 15 October. The SPD, once finalised and approved, is the document against which planning applications will be assessed.
It is apparent that this document has been drafted with the express purpose of supporting the proposals put forward at the exhibitions in Woodford and Poynton at the end of May. This is not surprising since the company responsible for the coordination and drafting of the SPD was Nathaniel Lichfield & Partners, who are consultants for the developers and landowners.
Is there any change from the earlier drafts we saw? Well, it would appear that a number of contentious issues such as provision of doctors, education and transport have simply been removed!
The timetable for the adoption of the SPD is as follows:
Thursday 30th August 2012: It will be on the Agenda of the Bramhall and Cheadle Hulme South Area Committee where it is the process for approval that will be discussed rather than the content. This meeting will take place at the Bramhall Village Hall, Melbourne Road, Bramhall, commencing at 6.30pm. This is a public meeting and it will be an opportunity for residents to attend and demonstrate the strength of their feelings towards the proposals.


Monday 3rd September 2012: Start of six-week consultation period. There will certainly be the option for interested parties to submit their opinions on-line. We will be publicising the appropriate links and offering assistance when the details of the Consultation are known.


Friday 7th September 2012 3pm – 8pm: Stockport Council is holding a public event and exhibition in the Woodford Centre Large Hall to publicise the SPD Consultation. We understand that there will be a standard response form available then for attendees to input their comments into the SPD Consultation process.

At the same time Woodford United will be holding a parallel event in the Woodford Centre Small Hall to present the findings of the Woodford Residents' survey and to put forward Woodford United's comments and counter-proposals. We would encourage you to visit this event first before the Stockport Council event.


Saturday 29th September 2012 10am – 3pm: Stockport Council is holding a second public event in the Woodford Centre Large Hall, which we have been informed will be identical to the first event . Woodford United will again hold a parallel event in the Small Hall.


Thursday 11th October 2012: The draft SPD will be presented to the Bramhall and Cheadle Hulme South Area Committee meeting at the Woodford Centre, commencing at 6.30pm. The content of the SPD will be discussed at this meeting. Once again this will be a public meeting and we will be encouraging residents to attend.


Monday 15th October 2012: Conclusion of the six-week Consultation period. Following the closure of the Consultation, Stockport Council has announced that the timetable for the SPD Approval Process will be:


Thursday 22nd November 2012: Bramhall & Cheadle Hulme South Area Committee.


Thursday 29th November 2012: Stockport Council's Environment and Economy Scrutiny Committee.


Thursday 6th December 2012: Stockport Council's Planning and Highways Committee.


Monday 17th December 2012: Stockport Council's Executive Committee.
Although it has been indicated that this is a joint SPD between Stockport and Cheshire East Council, there do not appear to be any parallel public events being held in Poynton. We are not aware that a timetable for consultation and approval has yet been issued by Cheshire East Council.